Hello everyone! Welcome to our Summer Blog Hop with the Ginger Snap Scraps Design Team!
This weekend we will be featuring projects all about Summer! We hope you enjoy all of the great work this Design Team has done and find some summer inspiration. Happy Summer!
If you came from mimi2trentdrew then you are in the right spot!
Materials:
My Favorite Things
Pure Innocence Make mine a double( Girl with ice cream)
My Mind's Eye
On the Sunny Side paper pad and accessories sheet(Paper and popsicles)
3 Birds stickers
October Afternoon
Sidewalks Sticker Sheet(Ice Cream)
We hope you enjoyed our Summer Blog Hop!
Now for some blog candy! We are giving away 2 $10 gift card to Ginger Snap Scraps!
Just leave a comment here and let us know that you did the following:
Head over to Ginger Snap Scraps
Ginger Snap Scraps
and follow the blog!
Head over to
Ginger Snap Scraps
on Facebook and like them!
Please visit the store and enjoy 30% off ALL items in store (excludes Provo Craft) all weekend long!
Save on Copics, stamps, Nestabilities, inks, paper pads, ribbon, twine and much more!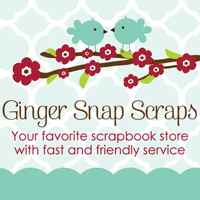 Here is the entire line up in case you get lost.
Ginger Snap Scraps - http://ginger-snap-scraps.blogspot.com/
Sarah - http://sarahvaitstamps.blogspot.com
Patty - http://creativediva98.blogspot.com
Missy - http://tangledwebsoftangwen.blogspot.com
Maria - http://JoyfulStamper.blogspot.com
Kate - http://scrapperscreativecorner.blogspot.com
Jessica - http://chick-n-scrap.blogspot.com
Janea - http://recollectionalley.blogspot.com
Gabrielle - http://gabyspapery.blogspot.com
Connie - http://conniecancrop.blogspot.com
Barb - http://bugbites411.blogspot.com
Ashley - http://theglamoroussideofscrapping.blogspot.com
Ann - http://annsnovemberrose.blogspot.com
Vanessa- http://wwwpaperkraftsunlimiteddesings.blogspot.com/
Cathy- http://www.mimi2trentdrew.blogspot.com/
Steph- http://lovetocreatecards.blogspot.com/